Does anyone else feel like time starts to move at double speed in April? I guess it's making up for how slow March usually feels. There's so much to relay, but I'll try to keep this brief.
First and foremost, I bought a house, and I'm spending most of my free time preparing to move in. I'm extremely excited to have my own office, which I'll be referring to as my Sanctum Sanctorum because I've been reading a lot of Doctor Strange recently. When I move into the house in May, it will be the first time I'm not writing out of a bedroom.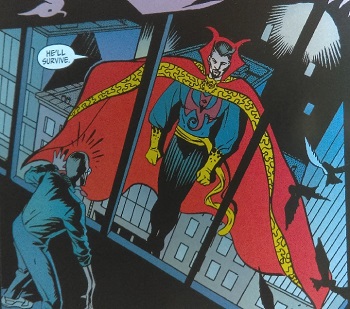 I'm also busy on the publishing front. I've got four stories coming out in the next few months. The first is being released  today (April 28th) in Hundred Word Horror: Beneath, and it's called "The Hunger Within." The tale follows a shady morgue worker making an unexpected finding. Be warned, the story is a little graphic. Next up is "Starship Thoughts" in Hundred Word Horror: Cosmos, slated for release on May 26th. While the title gives you a good idea of what the tale is about, I'm excited to see what people think of the story's formatting.
My Kiss-inspired horror story "The Blood Inked Comic Book" will be appearing in Castle of Horror Anthology Volume 5: Thinly Veiled. I think "The Blood Inked Comic" is probably the most Jeremiah Dylan Cook story I've ever had published. Castle of Horror Anthology Volume 5 is currently open for pre-order and will be out on June 15th. The paperback isn't available yet but will be closer to the release date.
Lastly, my fantasy story "The Wizard's Duel" is in Like Sunshine After Rain, a charity anthology edited by Heidi Ruby Miller. Proceeds for Like Sunshine After Rain benefit the Leukemia and Lymphoma Society. If you haven't already done so, please consider pre-ordering a copy for this fantastic cause. If you need extra incentive, my wife says "The Wizard's Duel" is her favorite story that I've written to date.
Alright, I think that's all the fun stuff I had to talk about. Now I must get back to sanding and painting my Sanctum Sanctorum. If only I could use magic…
Until Next Time,
Stay Froggy,
Jeremiah
P.S. Totally forgot to mention that I've also got a Weird Western going on New Pulp Tales. It's called The Sheriff and the Samurai, and you should check it out.