Gemma Amor is a name I've been familiar with for a long time due to The NoSleep Podcast. Her story, "Foliage," is one of the most memorable tales I've heard adapted there. So, it was only a matter of time until I picked up one of her books. After Amor described her story "It Sees You When You're Sleeping" as "Xenomorphs in Chimneys," on Twitter, I had to pick up her collection, Cruel Works of Nature, to download that story straight into my brain.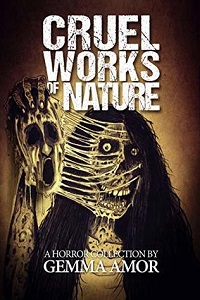 The previously mentioned "It Sees Your When You're Sleeping" didn't disappoint, and I enjoyed all the other tales in this collection. I'd heard adaptations of "Foliage" and "Girl on Fire" on The NoSleep Podcast before, but I enjoyed getting to read through the printed versions. Aside from those two tales, all the others were new to me.
Gemma Amor has an interesting style. She often blends humor, heart, and horror in equal measures. Her characters are well developed, and you find yourself rooting for them. She also indulges her readers in the occasional amusing absurdity. In "Scuttlebug" she has a giant spider attempt to get intimate with the protagonist, and "The Path Through Lower Fell" concerns man-eating cows. But Amor manages to keep her zany moments balanced so that they don't disrupt the darker tone of her tales. This is a feat that repeatedly impressed me while I read Cruel Works of Nature.
When it comes to horror stories, I think the spookiest scenarios spring from everyday people finding themselves in terrible situations through no fault of their own. I'm not saying you can't have the occasional protagonist who transgresses and is punished, but I think horror works best when it's reminiscent of a nightmare. Several of Amor's stories fit this description, but "His Life's Work" and "Special Delivery" are two that perfectly illustrate what I'm discussing. The protagonists in those stories are normal people who encounter frightening situations without any choice in the matter, and I loved reading about their terrifying experiences.
If you haven't yet read or listened to a Gemma Amor story, you may be interested to learn that her Bram Stoker Award nominated novel, Dear Laura, is currently being adapted and released by The NoSleep Podcast on a weekly basis. You can find a link to the first installment here. I'm loving the story, and I recommend checking it out to get a taste of Amor's work. You can also search for any of her stories that have been previously adapted by The NoSleep Podcast. If, once you've finished listening to some of Amor's work on The NoSleep Podcast, you're still hungry for horror, I'd be delighted if you checked out Episode 8, Season 14, where my story "The House Flipping Find" is featured.