The bright lights of the high holidays have turned to ash. Those of us who live in climates with winter brace for long, cold nights and dreary days. We're all a little down. That makes January the perfect month to embrace the inherent bleakness of the season by celebrating Cosmic Horror and the Cthulhu Mythos!
Okay, hear me out. I'm someone who loves reveling in my fandoms. When I was deeply into reading H.P. Lovecraft, I trekked to Providence to visit the city that fueled his fiction. I read Michael Shea's The Color Out of Time at a local reservoir because the story took place at a reservoir. When I play Cthulhu Mythos-themed games, I dress in 1920s finery and serve period drinks. Doing these kinds of things helps immerse me, and my friends, in whatever fandom we happen to be celebrating. Making January Cosmic Horror and Cthulhu Mythos month is just an extrapolation of that idea. Celebrating works whose fundamental goal is to make us realize our own insignificance is best done in the month where we already feel most insignificant.
If you're still reading, I assume you're interested in hearing how to celebrate Cosmic Horror and Cthulhu Mythos month.
Readings
Cosmic Horror and the Cthulhu Mythos were birthed in print, so that's where our festivities must begin. This is a perfect, solitary endeavor to keep your mind occupied on bitter January nights. Review the classics beginning with The Call of Cthulhu, the tale from which the Cthulhu Mythos takes its name. Buy works from your favorite modern masters. Might I recommend John Langan, Pete Rawlik, and Lucy A. Snyder for a start? There's also Ramsey Campbell, Laird Barron, Caitlin R. Kiernan, the Arkham Horror Files Novels, and many, many more. In the interest of time, I'm not listing them all, but you should absolutely investigate the amazing writers in this subgenre. You don't have to stick to single author works either, there are plenty of stellar anthologies, such as New Cthulhu, Children of Lovecraft, and The Book of Cthulhu. There is even a great Cthulhu Mythos anthology wiki tracking all these. Just don't read aloud from the Necronomicon. You've been warned.
Movie Viewings
This is a great way for you to gather friends to join together for the dreadful festivities of January. Simply pick your favorite Cosmic Horror and Cthulhu Mythos films and watch them with your chosen acolytes in the order of your choosing. The Lovecraft eZine has a great list of movies to choose from here. If you need a little more structure, here's my personal schedule for your use.
January 9th to 13th

Stuart Gordon Week! – Viewings of From Beyond, Dagon, and Dreams in the Witch House.
January 16th to 20th

Monsters and Madness Week! – Viewings of Alien, Necronomicon, The Mist, and The Lighthouse.
January 23rd to 27th

John Carpenter Week! – Viewings of The Thing, Prince of Darkness, In the Mouth of Madness, and Cigarette Burns.
Podcasts
Just search Cosmic Horror or the Cthulhu Mythos on your audio platform of choice and listen to the horrors you find. I highly recommend lending your ears to The Lovecraft eZine, a fine program discussing Cosmic Horror, Cthulhu, and modern horror books of all kinds. You should also seek out the many fantastic productions of Dark Adventure Radio Theatre (DART). DART adapts Lovecraft's works into radio dramas. Listening is a good activity to fit into car rides, mindless times at work, or whenever else you aren't consumed by Cosmic Horror and the Cthulhu Mythos.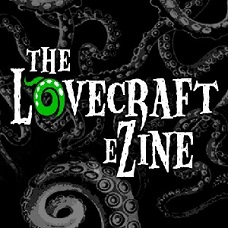 Themed Snacks
Calamari is an obvious snack for most Cthulhu Mythos themed celebrations. I think sushi is an equally solid food that fits the month's themes. You could also focus on 1920s era cocktails, spirits, or desserts. Pictured below is a delicious "human sacrifice" my wife made out of a blondie, fruit, and gummy worms. If you're struggling with inspiration, check out this article for ideas. No matter what you decide on, don't forget to keep some "cheese crackers" handy, like the protagonist from The Shadow over Innsmouth.
Games
There is a wealth of options to choose from here. My Cthulhu Mythos game of choice is Mansions of Madness, but I love the Call of Cthulhu Role Playing Game, Arkham Horror, Eldritch Horror, etc. While I prefer games that put me around a table with friends, you don't have to be bound to the physical realm. There are also a wide variety of Cthulhu Mythos themed or inspired video games to choose from.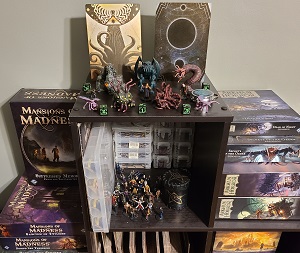 Those are my ideas for celebrating Cosmic Horror and Cthulhu Mythos month, but I'd love to read any ideas you have in the comments below or on social media. You can find me most easily on Twitter, @JeremiahCook1. And don't forget, Ph'nglui mglw'nafh Cthulhu R'lyeh wgah'nagl!